Balance of biodiversity
Balance of biodiversity
Sunday 26 September 2021,

11.00am

to

11.50am

BST
Sunday 26 September 2021,

11.00am

to

11.50am

BST
What would happen if the species around us disappeared? Join Katy to find out why it is so important to the world around us to have a wide variety of species, how plants and animals around us are connected, and what you can do to support greater biodiversity.
Following the video, Katy will be online to answer your questions.
Speakers
Katy Roper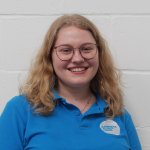 Katy Roper is a Science Communicator and the Volunteering Coordinator at Cambridge Science Centre, where she delivers science shows, workshops and activities to the public and school groups, bringing fun and interactive STEM content to a wide range of young people and their families. She is also involved in outreach, taking these shows and workshops out to schools around East Anglia.  
Katy has a background in biological sciences and science communication, having gained a BSc (Hons) in Neuroscience from Cardiff University followed by earning an MSc in Science Communication from the University of the West of England.
Booking information
Booking for this event is now closed.