Artificial intelligence and dispute resolution
Artificial intelligence and dispute resolution
Monday 21 September 2020,

12.30pm

to

1.30pm

BST
Monday 21 September 2020,

12.30pm

to

1.30pm

BST
Michael Dziedzic on Unsplash
Michael Dziedzic on Unsplash
In this event, Felix Steffek explores the impact of artificial intelligence on the way disputes are solved in court or between parties. He will report on the first ever competition between an artificial intelligence and commercial lawyers to predict the outcome of real disputes. Use cases for artificial intelligence in dispute resolution will be explored against the background of recent research applying machine learning to legal problems. The presentation will also critically examine new challenges. How shall we deal with the risk that artificial intelligence may be biased? Are there solutions to the 'black box problem', i.e. the difficulties to determine the factors advanced algorithms use to determine results? Finally, an ethical perspective will be taken to discuss the advantages and identify the risks artificial intelligence creates for conflict solution.
A recording of this session is now available to watch on YouTube.
Speakers
Dr Felix Steffek (St John's 2002)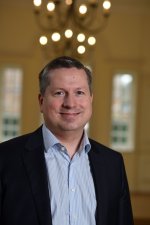 Felix Steffek is Associate Professor at the Faculty of Law of the University of Cambridge and Director of Studies at Newnham College. He serves as Co-Director of the Centre for Corporate and Commercial Law (3CL) and Director of International Strategy and Partnerships. He has been awarded a JM Keynes Fellowship in Financial Economics by the University of Cambridge. He is a Visiting Professor at Notre Dame University. His research interests cover dispute resolution, corporate law, insolvency law, commercial law and technology & law. 
Felix Steffek is a Member of the EU Expert Group on Restructuring and Insolvency Law, the OECD Advisory Panel for Access to Justice and the UNIDROIT Working Group on Effective Enforcement. He serves on the Editorial Board of the Journal of Corporate Law Studies, the Cambridge Yearbook of European Legal Studies and other academic journals. He is the principal investigator of a research project on artificial intelligence and law funded by the Nuffield Foundation. 
He has acted as policy advisor and expert for the European Commission, the European Parliament, the World Bank, the OECD, UNIDROIT, the Financial Stability Board, the EBRD, national governments, courts, parliaments and LawTech start-ups. He received his education at Cambridge (LLM), Heidelberg (PhD, undergraduate) and Hamburg (Habilitation, court clerkship). 
Booking information
Booking for this event is now closed.