A walk through medieval Cambridge: the top ten secrets their skeletons tell
A walk through medieval Cambridge: the top ten secrets their skeletons tell
Friday 24 September 2021,

1.00pm

to

1.50pm

BST
Friday 24 September 2021,

1.00pm

to

1.50pm

BST
Credit: Dr Hayley Mickelburgh, Linnaeus University
Credit: Dr Hayley Mickelburgh, Linnaeus University
After spending five years studying 500 skeletons from medieval Cambridge, our team has learned an immense amount about what life was like there. Shepherded by a (reconstructed) guide, we take you on a tour of the medieval town, stopping to chat about everything from what the risks of crossing the street were, what made their feet hurt, whether university scholars worked hard and how different kinds of people ate, to how medieval inequalities and big historical events shaped their bones.
Speakers
Professor John Robb (Fellow of Peterhouse)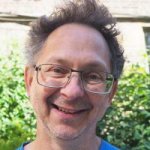 Professor John Robb received his first training in medieval English literature (BA, University of Chicago, 1983), and then went on to study anthropological archaeology at the University of Michigan (MA, 1989; PhD, 1995). His PhD thesis dealt with inequality and gender in Italian prehistory, combining evidence of human skeletons, archaeology and prehistoric art. After a brief post-doc at Southern Illinois University (1995-6), he taught at the University of Southampton for five years (1996-2001). Since 2001, he has been teaching at Cambridge, becoming Professor in 2015. He became a fellow of Peterhouse in 2015. 
John has run major projects on southern Italian archaeology, the biographies of ordinary people in medieval Cambridge, and the theoretical history of the human body. Besides these topics, he is interested in material culture theory, burial taphonomy and ritual, and prehistoric art. As this suggests, he specialises in being a generalist. 
Booking information
Booking for this event is now closed.