A virtual tour of the gardens at Murray Edwards College
A virtual tour of the gardens at Murray Edwards College
Friday 24 September 2021, 12.00am BST

to

Tuesday 28 September 2021, 12.00am BST
Friday 24 September 2021, 12.00am BST

to

Tuesday 28 September 2021, 12.00am BST
The gardens of Murray Edwards College span 14 acres and were recently included in the Good Garden Guide. We encourage our students to enjoy the gardens and unlike most colleges, students are welcome to walk on the grass and pick flowers and herbs to use. The College is built on the grounds of The Orchard, previously owned by Norah Barlow, granddaughter of Charles Darwin, who was herself a distinguished plantswoman. Dame Rosemary Murray, New Hall's first president, planned and planted the gardens around the current College buildings.
This session has been pre-recorded and will be available for the duration of the Alumni Festival, there is no booking required. The pre-recorded video will be available here from Friday 24 September at 9am.
Speakers
Jo Cobb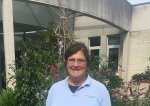 David Bellamy, the well-known botanist and broadcaster, taught me ecology when I studied biology at Durham University. He instilled in me a love of plants and field botany. I cannot say Allium schoenoprasum (the botanical name for chives) without mimicking him fondly. It was a short step from the moors and lakes we surveyed for me to think about a career in horticulture, often growing the same plants. I worked on several nurseries and grounds maintenance operations and applied for the job of Head Gardener at Murray Edwards 20 years ago. I love working here because the College and garden staff are so willing to try out new ideas. Currently we have put our energies into biodiversity, which brings me back where I started.