A forgotten massacre: Britons and Americans at Dartmoor Prison
A forgotten massacre: Britons and Americans at Dartmoor Prison
Saturday 26 September 2020,

2.00pm

to

3.00pm

BST
Saturday 26 September 2020,

2.00pm

to

3.00pm

BST
During the War of 1812, the last time Britain and the United States went to war with each other, more than 6,000 American sailors ended up in Dartmoor Prison. Drawing on his new book The Hated Cage, Dr Nicholas Guyatt will share the extraordinary story of what happened to them.

Watch a recording of this talk on YouTube
Speakers
Dr Nicholas Guyatt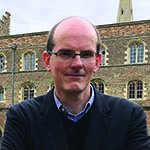 Dr Nicholas Guyatt is Reader in North American History in the Faculty of History and a Fellow of Jesus College.
Dr Guyatt's interests focus on questions of race, empire and citizenship in the late eighteenth and nineteenth centuries. He is particularly interested in the construction of racial categories and in the relationship between universalist ideas (especially ideas of equality) and the management of racial diversity in the early American republic. 
Booking information
Booking for this event is now closed.