What can entrepreneurs do about the climate crisis (that corporates can't)
What can entrepreneurs do about the climate crisis (that corporates can't)
Tuesday 28 September 2021,

2.00pm

to

2.50pm

BST
Tuesday 28 September 2021,

2.00pm

to

2.50pm

BST
Over the last two years, the "climate tech" field has gone from the fringes to the centre of venture investment. Kara Swisher of CNBC proposes that the world's first trillionaire will be a climate entrepreneur. Is applying "venture logic" around scaling and red-blooded capitalism "trying to solve a problem with the same kind of thinking that created it?" Or is there something fundamental to solving the net-zero challenge within the work of entrepreneurs?
Speakers
Chris Coleridge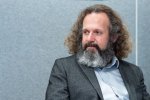 Chris Coleridge is Senior Faculty in Management Practice at Cambridge Judge Business School.  His early career was as an entrepreneur before pivoting into academia in the early 2000s, taking his PhD at the LSE and teaching strategic management and entrepreneurship across a number of business schools and accelerator programmes— since 2016, in Cambridge.  In 2019 he formed a team to develop Carbon13, the Venture Builder for the Climate Emergency, alongside his ongoing teaching and scholarship. 
Booking information
Booking for this event is now closed.