Treasures of the Stephen Hawking archive
Treasures of the Stephen Hawking archive
Monday 27 September 2021,

3.00pm

to

3.50pm

BST
Monday 27 September 2021,

3.00pm

to

3.50pm

BST
Join Cambridge University Library's Head of Archives Dr Katrina Dean (Newnham 1999) for a look at some of the highlights of the Stephen Hawking archive, and learn more about how this collection provides a unique insight into the life and work of one of the most extraordinary scientists of all time.
Speakers
Dr Katrina Dean (Newnham 1999)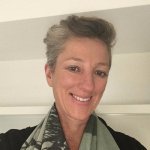 Dr Katrina Dean is Keeper of Archives and Modern Manuscripts at the University of Cambridge where she was Curator of Scientific Collections since 2017. Previous roles include University Archivist at the University of Melbourne and Curator of History of Science at the British Library. She is an external member of the Science Museum Group Collections and Research Committee. Co-editor of William Henry Fox Talbot Beyond Photography (The Yale Center for British Art, 2013), Dean edited the journal Archives and Manuscripts (2017-2018). 
Booking information
Booking for this event is now closed.