The incredible growing and shrinking brain
The incredible growing and shrinking brain
Saturday 24 September 2022,

11.00am

to

12.00pm

BST
Saturday 24 September 2022,

11.00am

to

12.00pm

BST
Brain charts are an essential step towards robust quantification of individual variation benchmarked to normative charts in multiple, commonly used brain measures that may ultimately help us understand typical and atypical development.
Over the past decades, neuroimaging has become an ubiquitous tool used in basic research and clinical studies of the human brain. However, there are currently no reference standards to quantify individual differences in neuroimaging measurement over time and across geographical locations, in contrast to growth charts for traits such as height and weight. Here we will present an interactive open resource to benchmark brain measures derived from any current or future sample of brain imaging data comprising of aggregated 123,984 MRI scans, across more than 100 primary studies, from 101,457 human participants between 115 days post-conception to 100 years of age. We are now able to reveal patterns of neurodivergent variation across neurodevelopmental, neurological and psychiatric disorders.
Speakers
Dr Richard Bethlehem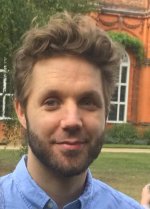 Dr Bethlehem is currently a Research Associate at the Brain Mapping Unit and Director of Neuroimaging at the Autism Research Centre, both in the Department of Psychiatry at the University of Cambridge. His research aims at gaining a better understanding of genetic underpinnings of typical and atypical neurodevelopment by integrating cutting-edge neuroimaging and transcriptomics techniques. Increasingly, this involves the use of large neuroimaging and genetic datasets such as the UK BioBank and ABCD cohorts as well as machine learning methods to delineate highly complex data.
Location
Sidgwick Site
Cambridge
CB3 9DP
United Kingdom