Conservation conversations: making models
Conservation conversations: making models
Friday 24 September 2021, 12.00am BST

to

Tuesday 28 September 2021, 12.00am BST
Friday 24 September 2021, 12.00am BST

to

Tuesday 28 September 2021, 12.00am BST
Join the Conservation team at the University Library as they discuss and demonstrate the making of model books as part of their work to preserve medieval manuscripts for the Polonsky Foundation Greek Manuscripts Project. Our expert conservators will present some of their work, show some of the techniques they use and answer questions submitted by you, the audience.
We would welcome questions submitted in advance of this session. Please share your questions with the Conservation team on Twitter: @theULSpecColl #PolonskyGreek
This session has been pre-recorded and will be available for the duration of the Alumni Festival, there is no booking required. The pre-recorded video will be available here from Friday 24 September at 9am.
Speakers
Dr Chris Burgess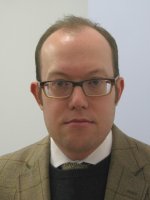 Dr Chris Burgess is responsible for developing the public programme of Cambridge University Library, including exhibitions. 
Marina Pelissari
Marina Pelissari graduated with an MA in Books and Archival Materials from Camberwell College of Arts (London) in 2019. Marina is interested in early book structures, medieval manuscripts and parchment conservation. 
Shaun Thompson
Shaun Thompson is a traditionally trained bookbinder with over thirty years' experience and a passionate advocate for the importance of hand bookbinding skills in book conservation.