A naturalist in the tropics - watching and wondering in the footsteps of Wallace and Darwin
A naturalist in the tropics - watching and wondering in the footsteps of Wallace and Darwin
Monday 27 September 2021,

7.00pm

to

7.50pm

BST
Monday 27 September 2021,

7.00pm

to

7.50pm

BST
In this talk, Professor Davies will show how our watching is enriched by the evolutionary ideas of Wallace and Darwin, which still inspire curious naturalists today. After an early morning wake-up call from the roars of howler monkeys, follow the trails of leafcutter and army ants through the rainforest, marvel at the bright colours of poison-dart frogs, the displays of fruit-eating birds, and dazzling hummingbirds, relax in the slow lane of life with sloths, and encounter some astonishing examples of how to avoid predation by camouflage and trickery.
Speakers
Professor Nick Davies (Pembroke 1970 and Fellow of Pembroke)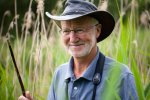 Nick Davies is Professor of Behavioural Ecology in the Department of Zoology and a Fellow of Pembroke College. He is also a Fellow of the Royal Society. His research on cuckoos and bird mating systems has been featured as a BBC TV Natural World Film and on BBC Radio 4 where he was a guest in the series "A life scientific". He has lectured on ten previous Alumni trips (to Ecuador and the Galapagos, Costa Rica and Madagascar). His book Cuckoo, cheating by Nature (2015, Bloomsbury) was described by David Attenborough as "an amazing detective story by one of the country's greatest field naturalists".
Booking information
Booking for this event is now closed.