Dr Sally Gibson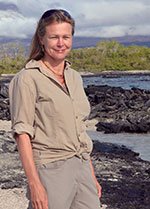 Dr Sally Gibson is a Reader in Petrology and Geochemistry in the Department of Earth Sciences at the University of Cambridge.
'Meet the scholars' interview, as featured in the 12th edition of 'Unbound'  (summer 2017)
Where did your interest in geology begin?
I've been fascinated by landscapes for as long as I can remember. I first became aware of how these relate to geology when I was in the sixth form at school. I then went on to read geology at the University of Sheffield.
What is the current focus of your research?
My research is primarily focused on understanding the links between processes that operate deep within our planet and those that occur at its surface. The Galápagos is a unique natural laboratory in which to study these interactions, especially those involving volcanoes, ocean currents and zoology, and is very much at the heart of my current research.
What do you enjoy about sharing your research?
I'm passionate about geology and committed to sharing my knowledge and experiences with others, this includes people from all different backgrounds and ages as well as fellow academics.
Do you have a favourite specimen from Darwin's 'Beagle' collection at the Sedgwick Museum?
Yes, there is a tiny sample of lava that Darwin collected from Isla Santiago in the Galapagos. Darwin was first and foremost a geologist and especially interested in volcanoes. This particular sample was vital to his understanding of what happens in the magma chambers that underlie volcanoes.
Darwin's ideas on magma chambers still form the basis of our understanding of the physical processes that govern volcanic eruptions. Moreover, Isla Santiago is where Darwin spent most of his time in the Galápagos and where he made key observations on the diversity of species; the tiny sample of lava in the Sedgwick Museum is of a rock type known as trachyte that only occurs at the summit of Isla Santiago.
Darwin's sample of trachyte and field notebooks were critical to us pinpointing his route on the Island during an expedition that I led in 2007.
Do you have a dream trip scholar destination, other than the Galápagos?
I've been incredibly lucky and have travelled to many different parts of the world. Somewhere that I would very much like to visit is Easter Island.
Which trip would you like to take from 'Unbound'?
It's a really hard decision to make as there are so many fabulous trips. I have, however, always wanted to visit Madagascar, so if I really have to choose a trip, it would be that one.
Background and research
Dr Gibson is Reader at the Department of Earth Sciences; a post she has held since 2012. Before taking on the Readership, from 2001-2012 Dr Gibson was Senior Lecturer at the Department of Earth Sciences.
Dr Gibson's research interests are :
Ocean island basalts
Large igneous provinces
Mantle petrology and geochemistry
Dr Gibson's research group is focused on both field and laboratory (petrological, experimental, geochemical and geophysical) investigations in order to understand melt generation in the Earth's crust and mantle and how this relates to surface processes. Key questions that their current research seeks to address fall into 4 major fields:
Ocean islands: How do they form and what controls volcanism?
Large igneous provinces: what proceses are responsible for the most voluminous outpourings of magma in our planet's history?
How did Earth's sub-continental litheospheric mantle form and how has it evolved? How does this long-lived, rigid shell modulate the release of volatiles from our planet's deep interior?
Remote sensing of rare-earth element deposits.
Positions:
Reader in Petrology & Geochemistry, University of Cambridge
Website: Dr Sally Gibson