Sun, sand and softcovers: our summer reading recommendations
Our star panel share their favourite summer reads.
Can't fit the longlist into your suitcase? You'll be needing our handy guide to beach reading, Cambridge style.
Griff Rhys Jones (Emmanuel 1972), comedian, writer, actor and television presenter
MI Finley's World of Odysseus (NYRB Classics) looks at The Odyssey as a way to reveal the legal structures of the modern world. It also compares the moral systems in The Odyssey with other societies, explaining things like guests, gifts, inheritance and kinship. It's an excellent companion to Adam Nicolson's book about The Odyssey and The Iliad, The Mighty Dead (William Collins). 
1606: William Shakespeare and the Year of Lear by James Shapiro (Faber) is about the historical background to the writing of King Lear and Macbeth. You realise it was rather bold of Shakespeare to write them as court plays, knowing they would be performed in front of the King. I also enjoyed Carly Simon's autobiography, Boys in the Trees (St Martin's Press). It's her search for love and happiness, and for someone of my generation it fulfils the promise of self-indulgence that rock 'n' roll made us.
Sir David Hare (Jesus 1965), playwright
Barney Norris is already admired as a playwright, but his first novel, Five Rivers Met on a Wooded Plain (Doubleday), is an amazing debut. It tells the stories of a group of people who are all involved in an accident, but it's also a portrait of the city of Salisbury. This kind of intensely emotional, deeply-felt, regional writing used to be one of the glories of British literature. Norris reminds you just how powerful that tradition was.
Helen Simpson is the best compressor in the business. Into her exquisite short stories she packs the exact mix of hope and despair, of energy and lethargy, of regret and determination that most of us go through on an hourly basis. I wolfed down her latest collection, Cockfosters (Jonathan Cape), at a single sitting. It's that good.
 
Dr Lydia Drumright, University Lecturer in Clinical Informatics, Department of Medicine
Reaching Down the Rabbit Hole (St Martin's Press) by Dr Alan H Ropper and Brian Burrell is an anthology by a brain injury doctor, in the tradition of Oliver Sacks' The Man Who Mistook His Wife for a Hat. His journey towards a diagnosis holds your attention like a thriller, and you learn how the brain works along the way.
In Suburban Safari: A Year on the Lawn (Bloomsbury), Hannah Holmes describes the wildlife in her garden like a David Attenborough programme. It's a clever idea and very funny. She lets ants traipse through her house in a way I wouldn't, but you end up seeing squirrels and crows in a new light. 
Ethics and Science: An Introduction by Adam Briggle and Carl Mitcham (Cambridge University Press) is a nice primer for those interested in the ethics of science and gives compelling real-life examples. Ethics are so important in what we do: scientists and the public need to be aware of the impact new discoveries will have.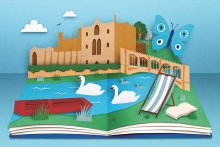 Dr Ruth Scurr, Politics Fellow at Caius
A Man of Genius (Bitter Lemon Press) by Professor Janet Todd is set in Venice in the 19th century. It's a clever exploration of the themes of the gothic novel but with a modern sensibility. It builds on Professor Todd's research into Mary Wollstonecraft and Mary Shelley and adds feminist concerns of the 1960s and 1970s. It's the story of an obsessive relationship and evokes the beauty of Venice, but also its sense of menace and decay. 
SPQR by Mary Beard (Profile Books) is a real tour de force – 600 pages of Roman history told with all Beard's subversion, scepticism and questioning intelligence. You have the battles and emperors but also everyday life. It's very approachable and still a distillation of all her years in the archives. Dr Scurr's biography John Aubrey: My Own Life (Vintage) is now out in paperback.
Professor Richard Gilbertson, Li Ka Shing Professor of Oncology and Director of the Cambridge Cancer Centre
1776 by Pulitzer-prize winner David McCullough (Penguin) is a brilliant book about the Declaration of Independence told through the eyes of everyday people – the watchmakers, cobblers and farmers – who found themselves fighting a war. They were basically a rabble but they defeated the superpower of the day thanks to their resolve. I lived in the US for 15 years and you can still see that spirit in Americans today.
The subject of Kevin Belmonte's biography William Wilberforce: A Hero for Humanity (Zondervan) was an amazing individual. He could have been the next prime minister but instead his religious convictions led him to spend 20 years fighting for the abolition of slavery. At the time, people thought he was a nutcase but he had the courage of his convictions. This book had a profound effect on me. It reminds you that there is a right thing to do – and you must do it.
Dr John Carr, Reader in Plant Virology
I read Biophilia by Edward O. Wilson (Harvard University Press) while I was travelling in Kenya for work. It explores the idea that humans like certain landscapes because of evolution – we came from East Africa so we like a lush, open landscape with mountains in the background, for example.
One book I've read and re-read is The Difference Engine by William Gibson and Bruce Sterling (Gollancz). It's an alternative history book of the 19th century. The 'engine' refers to the first programmable computer which Charles Babbage tried to build: in real life he fails but in the book he succeeds, and the 'savants' end up running the country, led by Lord Byron. The fun of it is working out which characters are real and which are made up.
Nick Hancock (Homerton 1983), actor, writer and television presenter
Antonia Fraser's Perilous Question (W&N) is a wonderful story, brilliantly written, about the Great Reform Bill of 1832 – a revolutionary period when the monarchy was under threat. It's a period I felt I should know more about and now I do!
The novel Elizabeth is Missing by Emma Healey (Viking) is not just about dementia, although it's a brilliant insight into that – there's also an unsolved crime. It's so tenderly written, you really care about this lady who has to leave notes for herself. It's tragic, but also comic.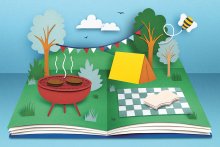 Miriam Margolyes (Newnham 1960), actor
I love Dombey and Son by Charles Dickens (Wordsworth). Dickens creates the 19th century like no-one else can. It's a story about pride; and it's typical of Dickens that he should have as the hero a child who has been wronged by their parents. Dickens has the emotional knowledge to express longing and feelings and at the same time is able to portray, in a very stark way, sheer evil.
I'm finding The Crime and the Silence by Anna Bikont (Farrar, Straus and Giroux) deeply depressing but compelling. The author somehow made the inhabitants of Jedwabne, Poland, talk to her about when, in 1941, they herded all the Jews into a barn and burned them alive. I am Jewish and I was born in 1941 – I could have been hated like that. The Poles said the Germans made them do it, but the writer makes them admit that they were the torturers and murderers. It's very hard to read, but I believe we have to face the darkness in ourselves.
Hugh Dennis (St John's 1981), comedian and actor
Alexi Sayle's second memoir, Thatcher Stole my Trousers (Bloomsbury Circus), deals with the 1970s and early 1980s when he was compere of The Comedy Store, which is where Steve Punt and I headed straight after Cambridge. It really was the birthplace of alternative comedy. Before that comedy was all "your mother-in-law is so fat" jokes. Having been a Footlight among all those hard-edged, politically motivated comedians made you wonder if you'd make it out alive, but it was a very exciting time. It's a very self-deprecating, funny book.
A book that I love is a collection of photographs called Lost London 1870-1945 by Philip Davies (Transatlantic Press). I love comparing Smithfield, where I live now, with how it was then and saying, "Ooh, that's interesting!" a lot.
Anne Hollinghurst (Hughes Hall 2007), Bishop of Aston
One very thoughtful book is Led into Mystery by theologian John de Gruchy (SCM Press), dedicated to his son, who died tragically in a diving accident. I was drawn to it as I was looking for a helpful book for someone who had also lost a loved one. I'm so glad I discovered it. It is written from a place of deep honesty, and although it offers no easy answers, it is a strangely hope-filled book.
I've always enjoyed reading classical literature but my sister, a former English teacher, sends me contemporary novels to keep me up-to-date. Of these I loved Miss Garnett's Angel by Salley Vickers (Harper Perennial). It's a gentle, humorous, poignant book of many layers, tracing the visit to Venice of the previously rather cautious middle-aged spinster – Miss Garnett – and her encounter there with paintings of Tobias and the Angel.
Zoe Cunningham (Trinity 1997), backgammon champion and MD of Softwire
Recently I've loved the page-turner Angel Falls, the third in the Cassandra Bick Chronicles by Tracey Sinclair (self-published). Vampire stories are often a bit old-school – all straight, all white, with women whose chief skill is swooning. Instead, Sinclair's tales are modern, sassy, diverse and entertaining. 
The book that has had the biggest impact on my life is The Artist's Way by Julia Cameron (Pan Macmillan). After spending 15 years as a technologist, reading this opened my eyes to other options and I now work as both a managing director and as an actor.
Zoe Cunningham's book Networking Know-How (Urbane Publications) is out now.
Interviews by Megan Welford and illustrations by Owen Gildersleeve.
This article first appeared in CAM - the Cambridge Alumni Magazine, edition 78. Find out how to receive CAM.