Gender justice and internationalism, past and present
Gender justice and internationalism, past and present
Monday 17 May 2021,

5.00pm

to

6.00pm

BST
Monday 17 May 2021,

5.00pm

to

6.00pm

BST

Add to your calendar
It has long been recognised that gender justice is an international issue. Feminist concerns, campaigning and networks have sometimes been mobilised against nationalist and anti-colonial movements, but have also been enrolled into these struggles. Has there been 'one feminism' or are there 'many'? Have women's rights in one part of the world been secured at the expense of those in other parts? Have intersectional perspectives resolved these tensions, or just created new ones? What does the study of gender bring to that of statecraft? In this panel, we bring together a scholar and a practitioner to reflect on the transnational and geopolitical impact of the 'women's movement', past and present.
This event is jointly hosted by the Centre for Geopolitics and the Centre for Gender Studies, POLIS, University of Cambridge.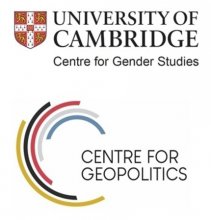 Panel
Dr Lucy Delap - Reader in Modern British and Gender History, Deputy Chair History Faculty, University of Cambridge. Author of Feminisms: a global history (2020).
Catherine Arnold OBE - Master of St Edmund's College, Cambridge. Former UK Ambassador to Mongolia.
Chair: Professor Jude Browne - Deputy Head of the Department of Politics and International Studies (POLIS) and The Jessica and Peter Frankopan Director of the University of Cambridge Centre for Gender Studies.
Booking information
If you'd like to see how the Centre for Geopolitics use your information when registering for an event, click here.