Events related to COVID-19
Online events relating to COVID-19 are taking place all over the University. Here's a selection which has taken place recently.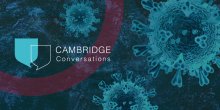 Cambridge Conversations
This Cambridge Conversations webinar, which took place on Friday 17 April 2020, featured Professor Ken Smith and Dr Nick Matheson, with facilitator Dr Chris Smith of the Naked Scientists. Together, they discuss the latest scientific information as an antidote to the speculation and misinformation rampant on social media.
Listen - YouTube
TH Backs Global Governments' Lockdowns
This Cambridge Union Society debate took place on Friday 24 April 2020.
Across the world, many governments have taken aggressive action in recent weeks to curtail freedom of movement and enforce social distancing in order to slow the spread of the coronavirus. Starting in Hubei in January, billions of people have been impacted by both the virus and these downstream effects. For the first debate of this unprecedented online-only Easter term at the Cambridge Union, join us to discuss the effectiveness and ethics of these lockdown measures.
Listen - YouTube