Digital University events
Discover the wide range of University events that are taking place online including the latest thinking on COVID-19, as well as other issues and questions facing the world in 2020.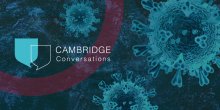 Cambridge Conversations
With the majority of Cambridge alumni the world over in isolation or lockdown, we have launched a series of webinars enabling digital access to leading academics and the chance to participate in real-time Q&A sessions.
As the COVID-19 pandemic threatens the very foundations our society, Cambridge experts are leading research into the diagnosis and treatment of the virus itself, and examining the challenges to our economic, political and educational systems.
Find out more and rewatch all of the events in the series here.
Global Cambridge
For more than five years, Global Cambridge has taken Cambridge ideas to towns and cities around the world. Now the series is more global than ever. Through the magic of modern technology, you can hear about the topics that matter, wherever you are. 
Listen - alumni website
TH Backs Global Governments' Lockdowns
This Cambridge Union Society debate took place on Friday 24 April 2020.
Across the world, many governments have taken aggressive action in recent weeks to curtail freedom of movement and enforce social distancing in order to slow the spread of the coronavirus. Starting in Hubei in January, billions of people have been impacted by both the virus and these downstream effects. For the first debate of this unprecedented online-only Easter term at the Cambridge Union, join us to discuss the effectiveness and ethics of these lockdown measures.
Listen - YouTube