Walking Cambridge alumni offer
Will you be returning to Cambridge this summer?
If so, we have the perfect book for your visit. Walking Cambridge by Andrew Kershman (Metro Publications) is an illustrated guide to the city taking you on paths familiar and new. This fantastic guide is available to alumni at a discounted price (details below).
Walk along pavements embedded with flowers, discover how John Hodson rose from a college servant to become a rich man, only to lose it all in a famous scandal, and find a monument erected by the deposed prince of Siam in memory of his faithful pooch.
These walks will not only take you through ancient college cloisters to reveal Cambridge's most famous sights, but also lead you far from the well-trodden tourist path, bringing to life long-forgotten voices and telling some surprising tales.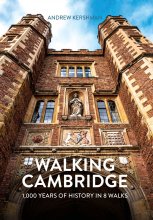 Walking Cambridge includes:
eight illustrated walks
details on the best cafés and pubs
information on local attractions, museums and galleries
maps – to help you navigate the city
Order your copy from Mero Publications and receive a £1 off the RRP when you enter the code CAMRES. This offer will be available until December 2021.